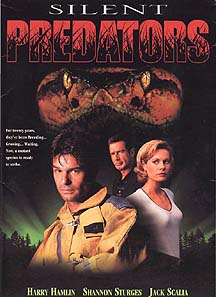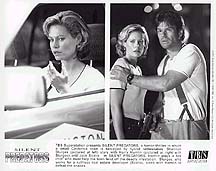 Silent Predators, an original TBS, Turner Broadcasting Superstation Movie-of-the Week, was based on a 61,000 word novel written by Patricia Arrigoni in collaboration with Fred Brown, who came up with the original idea. Both are listed in the Production Credits as "Story by Patricia Arrigoni and Fred Brown."
The movie, starring Harry Hamlin of "LA Law" fame, Jack Scalia and Shannon Sturges, was filmed in Australia in 22 days and premiered on June 13, 1999. The first seven broadcasts were reported to have reached 70 million viewers. It has now been broadcast over 50 times. The film has been sold to Halmark Entertainment and is being successfully marketed internationally. It is also available on Amazon on DVD and Video.
Silent Predators was directed by Noel Nosseck; teleplay by John Carpenter and William S. Gilmore and Matt Dorff; Executive Producers were Frank von Zerneck and Robert M. Sertner; Co-Executive Producers were William S. Gilmore and H. Daniel Whitman; Produced by Rick Arredondo and Randy Sutter; Co-Produced by Ted Babcock and Erik Storey; and Associate Producer, Peter Sadowski.