MAKING THE MOST OF MARIN
A California Guide, Third Edition
by Patricia Arrigoni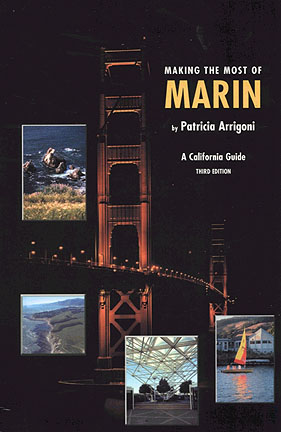 click on book for preview
The third edition of Making the Most of Marin is an insider's guide to beaches, seaside villages, redwood forests and Marin's spectacular mountain as well as little-known spots even residents may have missed: the earthquake trail, China Camp Sate Park, old forts and the Marin Headlands, historic Victorian homes and unique shops. There are also historical sketches of Marin towns, based on extensive research and on interviews with descendants of Marin's pioneer families.
Updated sections at the end of the book cover hotels, motels, inns, B & B's, trailer parks, campgrounds, youth hostels, restaurants, entertainment, transportation and commuting, tours, fishing trips and horses. New in the third edition are sports: golf, tennis, swimming, and fishing; dog parks; a report on the Marin County Schools; and profiles of 20 Marin residents who have made a difference.
This edition contains 480 pages, 20 maps and 180 photographs, including 31 historical shots. The guide presents an insiders knowledge of everything you might ever need to know about the most stunning county on the California coast.
Publication Date: 2001
Size: 9" X 6"
Binding: Paperback
ISBN: 0-9625468-7-9
Library of Congress Control Number: 00-091459
Price: $24.95